WordShark 4
Wordshark includes 55 games to teach and to reinforce reading and spelling using 9,000 pre-recorded words grouped in specially selected word lists. You can also add your own words. Wordshark takes a phonics approach to reading based on 'Letters and Sounds'. It is especially useful for students with dyslexia as well as for general use.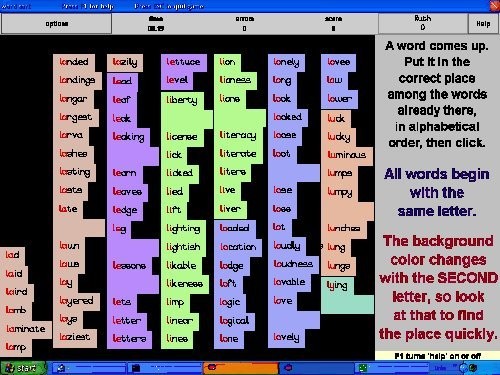 Summary of Content Evaluation
Angela Jones, Primary and Adult Teacher
Wordshark 4 is a comprehensive program of six courses that work on many levels. It can be used in the classroom for whole class teaching through to supporting the individual and from Key Stage 1 to older adult users.
The wide variety of games that it offers that address many aspects of supporting development in reading and writing: reading, spelling, listening for sound, letter pattern recognition, splitting up words, matching (card games), alphabet and dictionary and sentence work ensure that it can be used in many different ways.
With its comprehensive, structured approach and ease of use it is certainly a highly valuable aid to developing this area of literacy.
Summary of Classroom Evaluation
Angela Jones, Primary and Adult Teacher
Wordshark 4 is a very comprehensive support to a busy teacher in developing reading and spelling. The variety of wordlists held ensure that there is a structured program that can be worked through systematically.
Its ease of use and the enthusiasm with which it is enjoyed by children and adult users ensures that it is a motivational aid with enduring appeal. The fifty five games that it uses to run are applicable to children and adults and there is a wide variety of choice that helps to keep the learning fresh.
The use of ICT ensures that the support is immediate and that additional support is available on screen throughout its use.