M is for Me
Create an interactive class alphabet that is personalised incorporating children's photos, videos and voices using editable templates in popular whiteboard software.
Written by Helen Bromley,is packed full of inspiring ideas and activities designed to engage children with letters and their sounds.
You can create a personalised class alphabet with easy-to-use templates on the CD-ROM? With all the tricky technical work already done, you can focus on working with the children to create a unique resource which truly reflects the culture and community of your setting.
The CD-ROM also contains SMART Notebooks and Promethean Flipcharts including ready-made dinosaur and minibeast alphabets guaranteed to capture the imagination, especially for boys. m is for me! is an ideal way to deliver Letters and Sounds whilst staying true to the play based, child centred approach of the EYFS.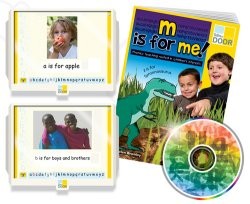 £25 + VAT published by Yellow Door.